All proceeds from the sale of Louie's Saxophone benefit various mental health organizations including: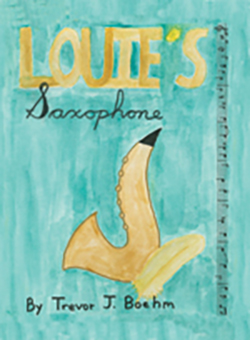 This book can be purchased here online as well as book signings and other events where Louie's Saxophone appears. Also available at Kneading Hands located at 306 Oak Street, Steamboat Springs, Colorado.
Reviews of Louie's Saxophone:
Recently I read Trevor's book "Louie's Saxophone" to a classroom of second and third graders. They loved the story and the illustrations. After the reading, we discussed the story and the lessons that could be learned from it. We discussed different ways of compensating for things we are unable to do. One little boy shared how it made him feel…"We should just feel good about what we CAN do." Thank you for sharing this wonderful book. It is meaningful for children and adults alike……It teaches we to make our own beautiful music in this world! ~ Kathie H.
It has such a good message of hope and in overcoming adversity. I love his drawings. ~ Marla O. (Minnesota)
Trevor's story…inspires us to continue rewriting the story of mental illness in our community. ~ National Alliance on Mental Illness
The book is beautiful with a message for young and old. I am currently seeking a job and found the message helpful to me. ~ Debbie R. (Kansas)
My heart is inspired and so warmed by Louie's Saxophone. I love the colorful art work, the comical characters and, of course, the story itself. ~ Karen S. (Colorado)
I have read Louie's Saxophone more than once – for me it is a good reminder to look at the people I love and see their differences as a blessing. And, that those differences can be used by God to make the world a better place. ~ Kathie W. (Minnesota)
Trevor's book captures his love for life, his heart's awareness of the need for expression (his and countless others) and his giftedness – even at the tender age of 16. ~ Mary S. (Arizona)
Reading the book made me think of a quote Trev told me once: 'Use the talents you possess. The woods would be very silent if no birds but the best sang . . .' Henry Van Dyke. I don't know where he heard that originally or the context in which he said it anymore, but that sentiment has stuck with me ever since in a really major way. The book means a lot to me. ~ Kyle F. (California)
To share your thoughts, memories and/or pictures of Trevor and his book, please visit and join our Facebook Group, Rest in Peace Trevor J. Boehm.